How do you manage group entities? Do you need a Legal Entity Management Platform?
5 practical questions and 5 concrete answers.
Preliminary test …
Are you sure that all information about your group entities is maintained and stored correctly?

Do you know which persons have access to which internal legal company documents?

Can you draft in 1 single click a correct list of all the current and past directorships?

Is your current group org chart 100% up to date?

Are all the share registers of the group completed, do you have digital copies and are they available at the registered seat of the company ('due diligence ready')?
Do you know the added value of a digital entity management platform?
If you answer was 'no' more than 2 times, we recommend to continue reading. In such case, a 'Legal Entity Management Platform' is definitely something for you to consider …
1. What is it?
A Legal Entity Management Platform enables companies and organizations to efficiently manage all their legal entities (holdings, operational companies, SPVs, subsidiaries and branches). Moreover, it generates detailed overviews of ownership structures, voting rights and governance bodies. As such, it relieves you and your legal advisors from tedious and time consuming administrative work. A cloud based Legal Entity Management platform is flexible as to support almost any type of organization. Such solution trumps Excel or other spreadsheets.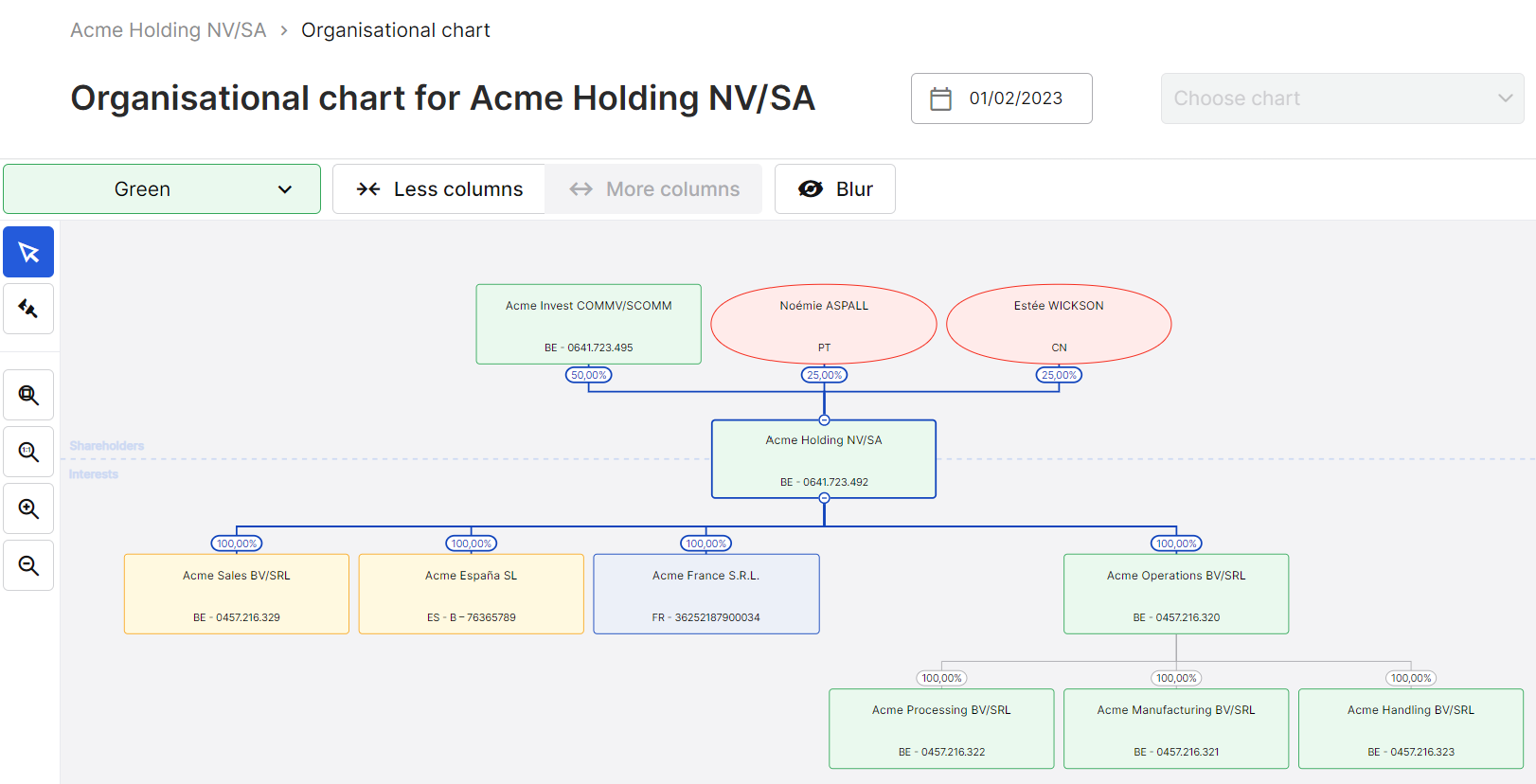 2. What are the benefits?
The following core functionalities are essential to a Legal Entity Management Platform:
All basic information and core documents of all group entities are centrally stored.
All directorships are kept up to date.
The platform administers all participations (both those of the mother entities and the subsidiaries).

Legally required share registers are managed fully digital. At any moment, you can export and print copies of the entire register or of individual certificates.

Automatic creation of visual org charts of the group structures, detailed according to your own wishes.
The platform automatically generates all legal documents in the framework of the annual general meeting or during specific ad hoc changes (capital increase, change of directors, etc.).
Integrations with the mostly used and common e-signing providers.
You determine which stakeholders get online access to certain information.

Shortcuts to the relevant enterprise registers.
Robust security through adequate ISO-certification, multifactor-authentication and advanced user permissions.
3. Who offers it?
Corporify is one of the most known market players in the space of legal entity management and digital share registers. We offer a unique data driven approach. From 'single source of truth', over document generation to communication via an encrypted and secured portal. We serve already more than 100 enthusiast customers locally and internationally. Our support team provides a clear and pragmatic onboarding, shares best practices, offers updates and answers all of your practical questions.
4. What does it cost?
The many benefits of transitioning to a modern software platform for entity management and corporate housekeeping definitely outweigh the investment cost. The fees are based on the number of users and the number of legal entities managed in the tool. Prices start from € 8,000 per year.
5. When can you start?
To know more about our concrete approach, you can easily set up a meeting through our website (https://www.corporify.com/en/demo). During an intake session, we will inquire about the size and scope of your project. Next, we will offer you a tailored implementation step plan. Most of our customers were onboarded in a timeframe of 6 to 10 weeks.
Take back control of your entities!